Tormek T-7 with Hand Tool Kit
| | |
| --- | --- |
| Code | 1407-H |
| Quantity in Cart | None |
| Price | $849.00 |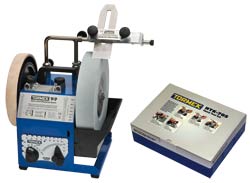 Free Ground Shipping in the 48 Contiguous States!
Tormek T-7
Tormek T-7 Sharpening System Standard Equipment

Stone Grader
Honing Compound
Horizontal Support
Flat Leather Honing Wheel
Grinder Instruction Handbook & DVD
TT-50 Truing and Dressing Tool
Pro Anglemaster angle setting jig
Micro-Adjustable Universal Support
Grinder with 220 grit wheel and water trough
New Square Edge Jig for chisels & plane irons
The Tormek T-7 reflects 30 years of evolution, making it the best and most versatile wet grinder system on the market today.
The new features include: an improved Square Edge Jig, safety stops, improved power coat finish and a 7-Year Warranty. Also, the T-7 now includes the Stone Grader and the TT-50 Truing and Dressing Tool as standard equipment. The T-7 accessories come in a case that can be hung on the wall and used as a storage case.
With this grinder, along with the extensive range of optional accessories Tormek offers, you can sharpen just about any tool. The 10" x 2" wide 220 grit aluminum oxide wheel runs at only 90rpm through a water bath. This means no chance of overheating or over grinding, and a razor sharp edge. Any burr left on the tool is easily removed by using the 8-3/4" by 1-1/4" wide flat leather honing wheel. Honing Compound is included with the grinder. The Tormek T-7 comes equipped with a new micro adjustable tool support with a calibrated thumb wheel. This support can be used in a vertical or horizontal position.
The T-7 has a 110v industrial, continuous duty motor. Total weight is 35 lbs.
Hand Tool Kit
The case for these accessories acts as a fitted storage case that can be attached to the wall.
This kit includes:
(140712) Knife Jig
(140718) Small Knife Holder
(140711) Long Knife Jig
(140713) Scissor Jig
(140715) Short Tool Jig
(140720) Axe Grinding Jig
Save over individual prices!