SB-250 Black Stone Silicon Wheel
| | |
| --- | --- |
| Code | 140726 |
| Quantity in Cart | None |
| Price | $218.00 |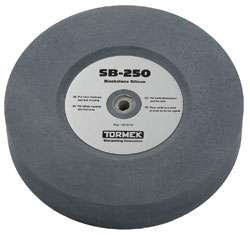 This wheel can only be used on the Tormek T-7 and earlier 2000 series models that use a 10" diameter wheel.
The Tormek SG-250 Blacktone wheel is designed for the cutting of hard steels including high speed steels and powder metallurgy steels. This 10" diameter, 220 grit wheel can remove material faster than the wheel that comes with the Tormek Grinder. It can also be used to touch up tungsten carbide if needed.
The Blackstone wheel features 220 grit with high hardness and very sharp grains. It can be dressed with the stone grader (not included) to remove material faster or more slowly and leave a finer finish equivalent to about 1,000 grit. The wheel has a high resistance to irregular wear.