Tormek T-3 Grinder
| | |
| --- | --- |
| Code | 140780 |
| Quantity in Cart | None |
| Price | $339.00 |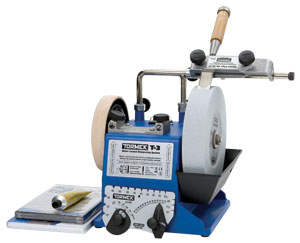 Last One! The Tormek T-3 Grinder is a smaller version of the well known Tormek T-7 grinder. It is built in Sweden with 30 years of Tormek experience having gone into it's design. The T-3 has an 8" diameter by 1-5/8", 220 Grit wheel, that runs at 120 rpm. The wheel runs in a water trough to keep it cool and remove metal particles during the grinding process. The shaft the wheel runs on is made of stainless steel. On the opposite end of the shaft is a leather honing wheel used with the honing compound for getting a very sharp edge on flat tools.
The body of the T-3 is made of tough ABS plastic and weighs only 16 lbs which makes it easy to transport if needed. The T-3 uses a micro adjustable universal support that allows it to use all the same sharpening jigs as the larger Tormek T-7. The new improved Square Edge Jig that comes with the T-3 is used for sharpening flat tools like bench chisels. It is designed to be more accurate even for tapered body Japanese chisels.
Available as an option is the stone grader that is used to flatten the wheel and condition it to perform coarser cutting or finer cutting. Alternately the optional TT50 Diamond Truing tool can be used to perform the same job with the ability to get the wheel perfectly square.
The T-3 comes with:
8" wheel
Leather Honing Wheel
Honing Compound
Square Edge Jig
Anglemaster
166 page Handbook
Instructional DVD
. The Tormek T-3 is covered by a 7 Year Limited Warranty