6 x 3/4" 46 Grit SG
| | |
| --- | --- |
| Code | 141620 |
| Quantity in Cart | None |
| Price | $53.96 |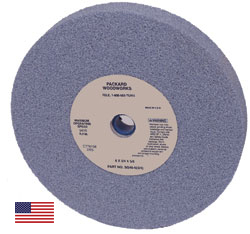 Great for sharpening M2 high speed steel tools
Great for sharpening Powder Metal tools
50% mixture of Seeded Gel (SG) Grain Ceramic Abrasive
"K" Hardness requires less frequent dressing
Designed to expose fresh edges while cutting
3 to 5 times more life than white wheels
Compatible with the Oneway Balancing System
Maximum operating speed 3600rpm
Made by Norton in the USA, these wheels are recommended by Jerry Glaser. These wheels are also great for sharpening M2 high speed steel tools. We have never used a grinding wheel that cuts as fast or cool. The secret of these wheels is that they are made using a Seeded Gel (SG) Grain ceramic abrasive that Norton invented. This gives them 3 to 5 times more life than white AOL wheels. The ceramic SG wheel is self sharpening, constantly exposing new cutting edges. The SG wheels also require less dressing than white wheels and has a K hardness.
Not compatible with the Oneway Sharpening System.
The 6" Wheels will fit 1/2" and 5/8" grinder shafts.