Vector Sharpening Fixture
| | |
| --- | --- |
| Code | 147201 |
| Quantity in Cart | None |
| Price | $169.95 |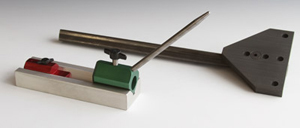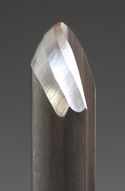 Vector fixture is quick and easy to use
Allows for the whole flute to be ground
Fits in Oneway or Sharpfast Bases
Michelsen Grind - gives precise control
Minimizes catches, more maneuverable
Can be used to make other grinds
Instructions Included
Made in the USA
See Johannes using the jig in the video below
Johannes Michelsen has been turning his well known wood hats, bowls and other items for over 35 years. Over that time he has developed a grind that is easier to use, can be sharpened easily with a fixture and reduces catches. We have been testing the Michelsen Grind and the Vector Sharpening Fixture in a professional shop for the last year and are very impressed with how well the grind works and how easy it is to maintain the grind.
The Michelsen Grind (pictured above right) features three bevels designed to keep the back of the bevel from interfering with the cut by bumping into the wood. The cutting is taking place on the small top bevel allowing for better control. The wings of the grind wrap inward at the ends so there are less catches when using the tool. The other two bevels create relief behind the cutting edge making the tool more maneuverable.
Unlike other grinding jigs, the whole tool can be ground with the Vector Fixture stretching your tool investment. The tool is put in the holder, the holder is flipped over and put in the fixture and the gouge is slid out to the pre-set stop. The stop is adjustable so a variety of different grinds can be made. Set up is straightforward and once setup, any of the bevels can be touched up by just using the different pivot holes in the fixture. The Vector fixture fits into the base of the Oneway Wolverine System or the Sharpfast System.
The Vector Sharpening Fixture is used in the Baseball Cap DVD available below