Safety Razor Handle Kit
Volume Price

| Quantity | Price Each |
| --- | --- |
| 1-9 | $8.95 |
| 10+ | $8.50 |
| | |
| --- | --- |
| Code | 153054 |
| Quantity in Cart | None |
| Price | $8.95 |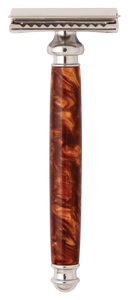 Safety Razors give a closer shave with less maintenance. Plus it is also often cheaper in the long run because replacement blades cost a fraction of a cartridge razor. Great weight and balance and a bit heavier than a cartridge style razor. The Safety Razor kits feature a double edged razor and includes a handle and razor head (standard m5.x .8 thread). Uses the same tube sizes and bushings as the Mach 3® style kit. Fits on all the Razor stands we sell. Standard head bolt connection allows use of many other style safety razor heads.
This kit is turned on our pen mandrel using the bushings sold below.
Bushings are needed to turn the project on the pen mandrels we offer. The bushings are used to size the outside diameter of the workpiece correctly for the specific project. They are also used to adapt the pen mandrel for project tubes larger than the mandrel shaft. Only one set of bushings are needed for many kits. After the bushings are worn down from sanding they will need replacing.