Satin Polaris Pencil Kit
Volume Price

| Quantity | Price Each |
| --- | --- |
| 1-9 | $6.80 |
| 10+ | $6.40 |
| | |
| --- | --- |
| Code | 154916S |
| Quantity in Cart | None |
| Price | $6.80 |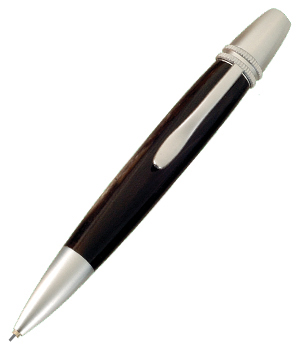 The Polaris pair of writing instruments are streamlined and artistic. Good balance makes each a pleasure to write with. These kits are easy to make using a single 3/8" tube each. The Pencil uses .7mm lead and the Polaris Twist Pen uses a Parker type refill. Turned using the Standard Pen Mandrel and the Polaris bushings.
Bushings: Bushings are needed to turn the project on the pen mandrels we offer. The bushings are used to size the outside diameter of the workpiece correctly for the specific project. They are also used to adapt the pen mandrel for project tubes larger than the mandrel shaft. Only one set of bushings are needed for many kits. After the bushings are worn down from sanding they will need replacing.
Limited Quantities available.