Key Chuck Penmaking Starter Kit
| | |
| --- | --- |
| Code | 154958K0 |
| Quantity in Cart | None |
| Price | $67.95 |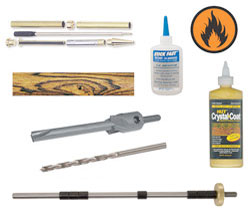 If you own a lathe and basic spindle making tools (3/8" spindle gouge, 1/2" skew), this kit will provide you with the basic supplies needed to try your hand at pen turning.
Save 10% on the individual prices!

The Basic Kit includes the following items:
Standard Key Chuck Pen Mandrel with 7mm Bushings
7mm Brad Point Drill Bit
6oz Crystal Coat Finish
7mm Barrel Trimmer
5 Slimline Pen Kits
1oz Medium CA Glue
5 Assorted Pen Blanks
This item is flammable. It cannot be shipped by air or through the United States Postal Service.