Oneway 1640 Lathe
| | |
| --- | --- |
| Code | 1640 |
| Quantity in Cart | None |
| Price | $4,250.00 |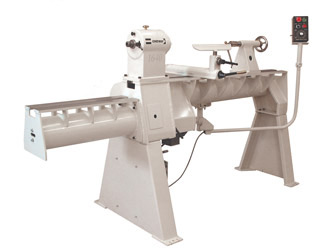 Call 1-800-683-8876 for our best price!
This 16" swing lathe with 40" between centers has many of the features of Oneways' larger lathes. The stiff Tubular base for the bed, sophisticated inverter drive system with 1-1/2hp or the optional 2hp variable speed motor, Motor controls on a swinging pendant, Cast Iron Tailstock with handle for easy removal, 4-Bearing Cartridge spindle System in the Headstock, Patented Cam-Action Tool Rest Base, 14" Tool Rest, 48 Position Indexing and rock solid turning performance.
There is an optional 24" Bed available that can be used on the inboard or outboard end of the lathe. It is set lower than the main bed on the outboard end which increases the swing to 24" diameter. This bed measures 24" long and turns the 1640 Lathe into a shortbed Bowl Lathe.
Shipping not included in lathe or accessory prices. Please contact us for freight cost on lathe and lathe accessory shipments.
Lathe pictured has optional 24" Bed Extension. The lathe pictured is a prototype. The production model machine may differ slightly.
Spindle Thread..............................M33x3.5
Spindle Type... 4 Bearing Cartridge Type
Distance between centers......................40"
Swing over Bed......................................16"
Tool Rest...................14" cast iron, 1" Post
Motor..1-1/2 or 2HP 220V AC Var. Speed
Spindle Speeds.......0-700rpm, 0-2585 rpm,
Reversing Switch....Included with motor
Headstock Taper................................#2MT
Tailstock Taper..................................#3MT
Tailstock Ram.......1-1/2" Dia. by 4" Travel
Spindle Height.......................................44"
Indexing............................Yes, 48 position
Footprint...........................31" wide by 60"
Net Weight....................................... 575lbs