Turning Bowls with Richard Raffan - DVD
| | |
| --- | --- |
| Code | 182207 |
| Quantity in Cart | None |
| Price | $19.95 |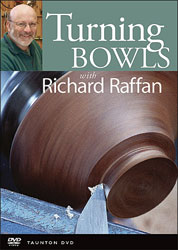 Turning a block of wood into a spectacular bowl is a creative challenge that holds a very special sense of satisfaction when you master it. But, with its own unique strategies and subtle techniques, turning bowls is a skill best learned by watching a pro in action. Here's all the expert advice you need from a world-renowned teacher with clear, straightforward demonstrations that show how to turn bowls with style. All delivered with step-by-step instructions, clever inside tips and Raffan's contagious enthusiasm for the craft. From creating standard bowls, to natural edge and deep hollowed bowls, everyone will learn from this DVD.
Running Time: 90 mins.
DVD's can be returned only for replacement if defective. Please call before returning DVD's.No returns will be accepted after 90 days.