Bowl Turning by John Jordan - DVD
| | |
| --- | --- |
| Code | 182701 |
| Quantity in Cart | None |
| Price | $19.95 |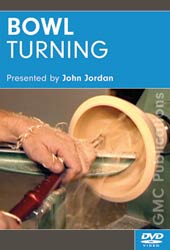 Bowl Turning is a simple step by step guide that will show you how to make decorative or functional bowls. Each step is shown clearly and up close. Among the techniques shown are: basic and advanced cuts with the deep fluted bowl gouge; sharpening; making natural or bark edged bowls; dry wood vs. green wood; power sanding; and finishing.
Running Time: 120 Minutes
DVD's can be returned only for replacement if defective. Please call before returning DVD's.No returns will be accepted after 90 days.