Surface Design by Binh Pho - DVD
| | |
| --- | --- |
| Code | 184101 |
| Quantity in Cart | None |
| Price | $34.95 |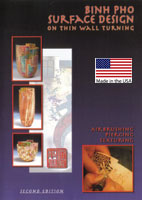 Limited Quantities
Binh Pho has created some of the most beautiful painted and pierced turnings on the planet! His work is in many private collections, galleries and museums.
In this DVD Binh shows the techniques he uses to create these one of a kind pieces. The instruction is very clear and inspirational. The process of color, masking areas, and layout is shown in detail. A gallery of pieces by Binh Pho serve both as an inspiration and guide to the turner. After watching this video you will be able to express your own style in creating artistic pieces you didn't think possible.
Running Time: 80 minutes.
DVD's can be returned only for replacement if defective. Please call before returning DVD's.No returns will be accepted after 90 days.