Thin Walled Turning by Binh Pho - DVD
| | |
| --- | --- |
| Code | 184102 |
| Quantity in Cart | None |
| Price | $34.95 |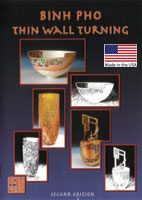 The viewer is guided through the making of three different thin walled vessels. Everything you need to know is covered by Binh as he turns a Thin Wall Vessel, a Winged Vessel and an open vessel. Hollowing methods are discussed as are different hollowing tools available. How to judge wall thickness using a light is shown along with good instruction on proper shear scraping and finishing techniques. General tips for doing your best work will be helpful to turners of all experience levels. This DVD will help the turner excel in ways not thought possible.
Running Time: 86 minutes
DVD's can be returned only for replacement if defective. Please call before returning DVD's.No returns will be accepted after 90 days.