Turning for Fun and Profit by Nick Cook - DVD
| | |
| --- | --- |
| Code | 184112 |
| Quantity in Cart | None |
| Price | $29.95 |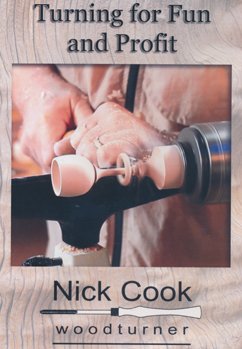 Nick Cook is a full time production turner producing a wide variety of gift itemsē, one of a kind bowls and vessels. In this DVD, Nick demonstrates how to create eight different items that are fun to make and easy to sell. The video was captured in full HD and provides excellent views of the projects and tool usage, making it easy for you to follow every move. Projects include: a garden dibble, snowman ornament, baby rattle, spinning tops, tea light, lidded box, goblet with captured ring, and a bowl.
Running Time: 78 Minutes
DVD's can be returned only for replacement if defective. Please call before returning DVD's.No returns will be accepted after 90 days.