Bowl Basics the Easy Way by Lyle Jamieson - DVD
| | |
| --- | --- |
| Code | 185802 |
| Quantity in Cart | None |
| Price | $39.95 |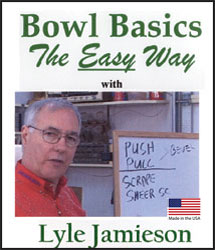 Great for Beginners! This 2-DVD Set is loaded with information on bowl turning. Each section is covered in lots of detail. Topics covered include:
Lathe setup
Bowl design
Grain orientation
Chainsaw use
Green (wet) wood use
Bowl gouge control
Faceplate and glue block use
Sharpening techniques and side grind use
Sanding techniques for best finishing results
Total Running Time: 4 hours 20 mins.
DVD's can be returned only for replacement if defective. Please call before returning DVD's.No returns will be accepted after 90 days.