Elliptical Turning: An Introduction by David Springett - DVD
| | |
| --- | --- |
| Code | 186910 |
| Quantity in Cart | None |
| Price | $24.95 |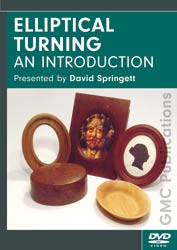 This DVD will satisfy those people interested in making elliptical turnings. Projects such as picture frames trays and boxes can be made using these techniques revived from 16th century craftsmen. David Springett's detailed demonstrations show how this type of specialty turning is accomplished. He also shows how to make a chuck used to turn these turnings that you would not think possible.
Running Time: 57 minutes
DVD's can be returned only for replacement if defective. Please call before returning DVD's.No returns will be accepted after 90 days.