Squire 12 Tooth Disc
| | |
| --- | --- |
| Code | 301811 |
| Quantity in Cart | None |
| Price | $49.95 |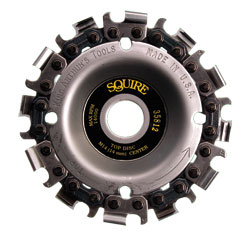 The Squire Carving Discs are a smaller 3-1/2" diameter version of the Lancelot discs that work well for smaller projects. One or two can be mounted at a time and used for rapid wood removal or more delicate feathering and texturing. The Squire discs are available in a 12 tooth for coarse work or 18 tooth for fine work. The Squire Discs have a 5/8" hole for mounting on a 4-1/2", 10,000 to 13,000 rpm angle grinders (not included) with a paddle or constant pressure switch.
Like the Lancelot, the Squire is made of a circle of special chainsaw chain mounted between two stainless steel discs. The chain has consecutive left and right teeth without a skip link, giving twice the number of teeth as a regular chainsaw chain. This gives it the ability to power through hardwoods easily. Should the blade hit a nail or piece of wire in wood, on most occasions it will cut through the obstruction. If not, the impact will cause the chain to stop while the discs rotate giving the user a warning to stop the angle grinder. The chains are easily sharpened with a 5/32" (4mm) chain saw file.
By using the Universal Nut, more than one Squire disc can be mounted on the shaft or a Lancelot and Squire can be used together as a combination. This is very useful for bowls and other concave surfaces.