Jet 1840DVR Lathe
| | |
| --- | --- |
| Code | 719650 |
| Quantity in Cart | None |
| Price | $3,499.99 |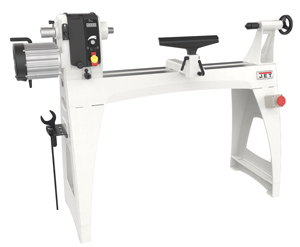 See the New Tailstock Swing Away for Jet 1840, 1640, 1642, 1442 Lathes listed at the bottom of this page under Related Items.
Call 800 683-8876 for Best Price!

Jet 1840DVR Lathe Specs
Spindle Thread - 1-1/4" x 8 TPI
Spindle Through Hole - 5/8" dia.
Distance Between Centers - 40"
Swing over Bed - 18-1/2"
Swing over Tool Rest Base - 14-1/4"
Lathe Construction - Cast Iron
Tool Rest - 14" cast iron, 1" Post
Banjo: Cam-Lock, non marring post clamp
DVR Motor - 2hp 220V with Reversing
Electronic Variable Speed from 40-3200 with constant torque
Direct drive for smooth operation
Direct drive 1/2 the power of conventional motor
Remote Switch Included
Digital Speed Read Out - Yes
Headstock slides and rotates
Newly designed headstock locking lever
Headstock Spindle Taper - #2MT
Tailstock Quill Taper - #2MT
Tailstock Ram Travel - 4-1/4"
Spindle Height 39-1/4"
Includes Cast Iron Leg Risers for 43-1/4" spindle height
Spindle lock frees up both hands
Indexing - 36 position
Footprint: 54"L x 20"W
Dimensions with motor: 73"L x 20"W x 52-1/2"H
Net Weight - 414lbs
The Jet 1840DVR Lathe represents a great value. Special features include a new headstock that slides and swivels allowing larger diameter turning. The headstock also features a longer nose with dual bearings. The cast iron legs will accept a user made shelf. The 1840DVR motor uses half the electricity of a conventional motor and is direct drive to povide smooth variable speed control without having to change belts. The DVR Motor give constant torque at all speeds.
Standard Equipment includes: 14" Tool Rest, 3" Faceplate, Live Center, Knock-out Rod, Spindle and Indexing Locks, Wrench and manual. A guard is available as an option.
This item is shipped from the manufacturer. An additional $75 will be added to regular Shipping & Handling. Air shipping and international shipping are not available for this item. Ships to 48 contiguous states only.