Henry Taylor Carving Tools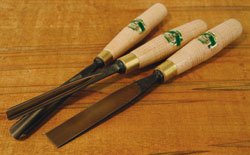 Hand Forged Acorn Brand tools are world renowned and have been made by Henry Taylor since 1834. They combine the traditional pride and skills of the past with the aids of modern technology. Only the best quality Sheffield steel is used, coupled with advanced heat treatment, to ensure that each tool has the finest cutting edge and the best metallurgical qualities. These carving tools are used by skilled woodcarvers throughout the World. While all the tools come sharpened honing may be required to satisfy one's own personal taste.
Save 10% when you buy any three Henry Taylor Carving Tools!