Digital Calipers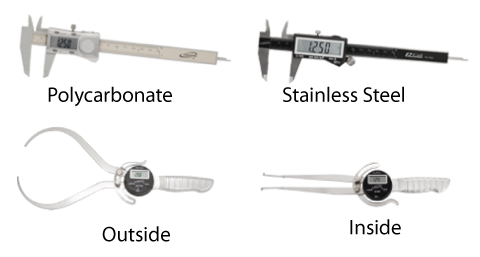 Polycarbonate Digital Caliper - These low cost calipers measure inch, fractional (1/64") and metric from 0" to 6". They can measure inside, outside and depth and include a lock. Includes two batteries and plastic case.
Stainless Steel Digital Caliper - This digital caliper produces inside, outside and depth readings in metric, decimal and fractional inch scales. It features a large readout, machinist accuracy, 6" capacity and locking screw. This caliper is accurate to .001" This well made stainless steel instrument is splash, water, oil and dust resistant and comes provided with a sturdy plastic case and two lithium batteries.
Inside/Outside Digital Calipers - These Digital Calipers have a handle for easy one handed use. They can be locked at a specific size or used to spot check size while turning. They are very accurate and display in inch, metric, and fractional (1/64"). The jaws are spring loaded for ease of use. They are made of aluminum with a chrome finish so they won't rust. We offer both Inside and Outside styles in 6" and 8" sizes.
Code
Name
Price
130501
Polycarbonate Digital Caliper
$14.95
133902
Digital Stainless Steel Caliper
$29.95
130515
6" Digital Outside Caliper
$24.95
130516
6" Digital Inside Caliper
$24.95
130517
8" Digital Outside Caliper
$29.95
130518
8" Digital Inside Caliper
$29.95