Vertex Fountain and Rollerball Kits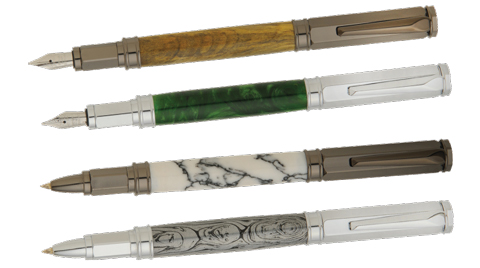 These pens feature a sleek, faceted design and include a unique magnetic cap. The Vertex Fountain Pens include a premium Iridium nib. These pens use 10.5mm tubes and are turned on the pen mandrel using the trimming sleeve (use with the 7mm barrel trimmer) and bushings listed below.
Bushings: Bushings are needed to turn the project on the pen mandrels we offer. The bushings are used to size the outside diameter of the workpiece correctly for the specific project. They are also used to adapt the pen mandrel for project tubes larger than the mandrel shaft. Only one set of bushings are needed for many kits. After the bushings are worn down from sanding they will need replacing.
Code
Name
Price
153062GM
Gun Metal Vertex Fountain Pen
$12.45
153062CH
Chrome Vertex Fountain Pen
$12.45
153061GM
Gun Metal Vertex Rollerball Pen
$11.95
153061CH
Chrome Vertex Rollerball Pen
$11.95
153061B
Vertex Rollerball/Fountain Pen Bushings
$5.95
150105
10.5mm Drill Bit
$7.95
153076TS
10.5/12.5mm Trimming Sleeves (2)
$4.95