Inlace Specialty Dyes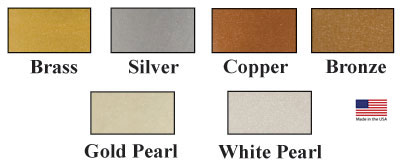 Click on the item number or add to cart to see the Sale Price!
These are strong dyes with a metallic shine or pearlescent glow. A little goes a long way. The final color depends on the concentration used and the other materials used. They can be used to color the clear or colored Inlace and can also be used to color epoxy glue when filling cracks. Special colors can be mixed to match inlay material being used. The Dyes come in 1oz Jars (by volume).
Code
Name
Price
159650
Brass Inlace Dye
$16.95
159651
Silver Inlace Dye
$16.95
159652
Copper Inlace Dye
$16.95
159653
Bronze Inlace Dye
$16.95
159660
Gold Pearl Inlace Dye
$16.95
159661
White Pearl Inlace Dye
$16.95