Easy Core 11-1/2'' Knife Set
| | |
| --- | --- |
| Code | 112698 |
| Quantity in Cart | None |
| Price | $159.95 |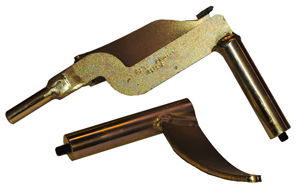 The Knife Sets determine what size bowl blanks can be cored with the Easy Core System. The 11-1/2" Knife Set can produce cores between 10" and 13" depending on the positioning of the knife. 9", 13" and 16" sizes are also available. Each knife set includes a support finger of the proper size to support the arm and reduce vibration.
Each Knife Set includes a knife, support finger and cutter. Cutters are replaceable and easily sharpened on a bench grinder platform. The cutters are made from HSS CPM M4.
A sharpening jig is available to aid in sharpening the cutter on a bench grinder platform.
A Base Set must be purchased separately with the Knife Set to complete the Easy Core System