Gatsby Twist Pen Kits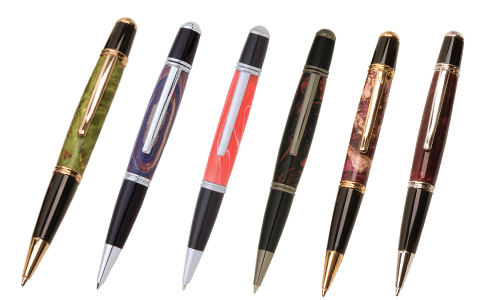 These elegant writing instruments exhibit a streamlined flair. The black components offset the gold or silver of the plated parts. We offer these pens with 24k gold plating, Titanium plating or the Rhodium plating of the Platinum Group Pens. The Gatsby Pen uses a single tube, so is easy to make. The kits are turned on our pen mandrel with the Gatsby bushings.
Bushings: Bushings are needed to turn the project on the pen mandrels we offer. The bushings are used to size the outside diameter of the workpiece correctly for the specific project. They are also used to adapt the pen mandrel for project tubes larger than the mandrel shaft. Only one set of bushings are needed for many kits. After the bushings are worn down from sanding they will need replacing.
Code
Name
Price
152984
24k Gatsby Twist Pen
$8.50
152984T
Titanium Gatsby Twist Pen
$8.95
152984PG
Platinum Group Gatsby Twist Pen
$9.95
152984CH
Chrome Gatsby Twist Pen
$6.50
152984S
Satin Gatsby Twist Pen
$6.50
152984GM
Gun Metal Gatsby Twist Pen
$6.95
152984BX
Gatsby Hardware Kit
$14.95
150127
27/64" Drill Bit
$7.95
152984BU
Gatsby Pen Bushings
$4.95
152984TS
Gatsby Trimming Sleeve
$3.95
152984CG
Gatsby Twist Pen – Chrome/Gun Metal
$6.95