Solid Brass Flower Arrangers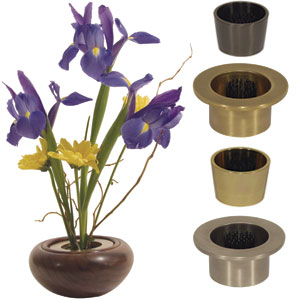 We are very pleased to be able to offer these high quality flower arrangers. Their bodies are made of solid brass with brass prongs to hold the flowers. The prongs are colored black and lacquered. We offer two different styles: Tapered and Flanged. The Tapered measures 2" diameter at the top and 1-5/8" diameter at the bottom. Overall height is 1-5/16". The Flanged design is available in two sizes, and measures just under 3" or 4" in diameter with a body just under 2" with an overall height of 1-1/4". Both styles are available in four different finishes: Polished Brass, Antique Brass, Antique Pewter and Black Pewter.
You may mix colors, styles and sizes to achieve quantity discounts.
Code
Name
Price
158923
4" Flanged - Antique Pewter
$12.95