Hosaluk 12" Aluminum Handle
| | |
| --- | --- |
| Code | 105401 |
| Quantity in Cart | None |
| Price | $52.95 |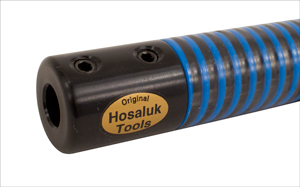 Color may be different than picture. Call or email for more information.
While we have sold similar handles designed by Michael for some time, these new tool handles from the well known turner are made of aluminum. This gives more feel of the tool during the cutting process and during sharpening. The tool is held in place with two set screws and can be adjusted in and out of the handle to provide the best length for the turning at hand. These handles come in 12" and 18" lengths by 1-1/4" diameter. They have a 1/2" hole in one end and a 5/8" hole in the other. The holes are slightly oversized to allow for tools made in a metric size.
The 18" Handle is also available made in steel to provide a heavier alternative to reduce vibration in roughing out and interrupted cuts.
Available as an option is an adaptor with a 3/8" hole to allow the use of smaller tools in the Hosaluk handles. It is made of steel and is held in the 5/8" hole of the handle.