Hosaluk 22" Steel Handle
| | |
| --- | --- |
| Code | 105407 |
| Quantity in Cart | None |
| Price | $74.95 |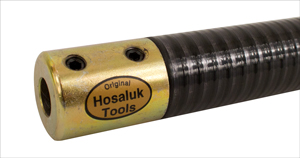 Color may be different than picture. Call or email for more information.
These tool handles designed by Michael Hosaluk are made of vinyl wrapped aluminum or steel. The aluminum handles gives a better feel of the tool during the cutting process and sharpening. The steel handle is better for roughing situations where maximum dampening of vibration is needed. The tool is held in place with two set screws and can be adjusted in and out of the handle to provide the best length for the project at hand. The aluminum handles come in 12" and 18" lengths and are 1-1/4" diameter. The steel handles come in 18" and 22" lengths and are 1-1/4" diameter.
All the handles except the 22" have a 1/2" hole in one end and a 5/8" hole in the other. The 22" handle has a 5/8" hole in one end and a 3/4" hole in the other. This aalows it to be used with the Sorby or Stewart armbrace handles. Available as an option is an adaptor with a 3/8" hole to allow the use of smaller tools in the Hosaluk handles. It is made of steel and is held in the 5/8" hole of the handle.