Collet Chuck Hub 1-1/2"
| | |
| --- | --- |
| Code | 113928 |
| Quantity in Cart | None |
| Price | $79.95 |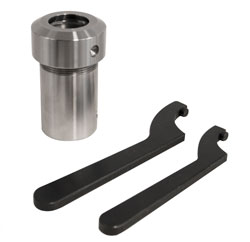 Built to machinist tolerances and adapted from metalworking technology, this collet chuck is designed to hold small parts on the lathe safely and accurately. It is great for holding small turnings such as knobs with tenons, bottle stoppers, light pulls, etc.
The Beall Collet System gives a very strong grip without marring the work piece. We offer five interchangeable collets that hold round stock from 1/4" to 3/4" diameter in 1/8" increments. After the piece is inserted into the collet, the collar is tightened by hand or with the supplied steel wrench if more pressure is needed. To remove the piece the collar is loosened which in turn releases the collet. The Collet chuck hub is available to fit a 1" x 8TPI, 1-1/4" x 8, 1-1/2" x 8 or 33mm x 3.5 spindles. Collets are sold separately.