Jet 14" Band Saw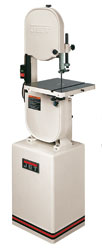 Jet Bandsaw Specs
Cutting Width: 13-1/2"
Cutting Height:Under Guides 6"
Cutting Height w/Riser: 12"
Min. Saw Blade Width: 1/8"
Max. Saw Blade Width: 3/4"
Blade Length: 93-1/2"
Blade Length with Riser: 105"
Table Dimension: 15L x 15W
Table Tilt: 45 R, 10 L
Table Height From Floor: 43-1/2"
Dust Port Diameter: OD4"
Dust Collection Minimum: 300 CFM
Wheel Diameter: 14"
Motor: 1HP, 115V
Overall Dimensions: 68 x 26 x 19
Net Weight: 185 lbs
The JET 14" Band Saw is great for roughing out bowl blanks and general sizing before turning. An optional riser block is available for work with thicker wood.
6" depth capacity under blade guides,
12" depth capacity with optional riser block
15" x 15" offset cast iron table gives you more work area in front of the blade
Cast iron frame construction for strength, rigidity and reduced vibration
4" dust port allows for dust collection
Precision computer balanced wheels eliminate vibration
Micro-adjustable lower thrust bearing
Graphite impregnated polymer blade guides with roller bearing thrust guides
Six-spoke band computer balanced wheels
3/8", 6 TPI woodworking blade included
Single knob tracking adjustment simplifies the blade tracking process
1HP 115V Motor can be wired for 220V
$80 additional shipping in the 48 contiguous states.
Code
Name
Price
708115K
Jet 14" Band Saw
$749.99
708717
Jet 6" Riser Block
$99.95
708718R
Rip Fence for Jet 14" Band Saw
$109.95
708716
Jet Mitre Gauge for 14" Bandsaw
$54.95