Nova Misc Dovetail Jaws
Nova Pin Jaws
These extended jaws are designed to act like a pin chuck by expanding into a pre-bored hole. The will also give good grip on dowels. They have longer jaws to allow for a good grip on dowels and projects like lace bobbins and delicate pots. The Pin Jaws also have a dovetail to mount small bowls.
Nova Spigot Jaws

The Spigot Jaws are specially designed to provide a strong grip both in the contracting (gripping round or square spigots) and in the expanding mode. They are recommended for workpieces that extend further from the chuck like vases and goblets.
Nova Long Nose Jaws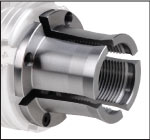 Not for use on the Precision Midi Chuck.
These unique jaws have a 2" rise above their mounting base that gives access to the bowl when being held. They have an internal dovetail grip at the top with internal serrations to bite into the wood for a secure grip. The Long Nose Jaws also have an external dovetail for expanding into a recess.
Nova Step Jaws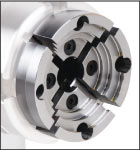 Not for use on the Precision Midi Chuck.
The Step Jaws are designed to grip in the contracting mode, on footed bowls. The step sizes provide optimum gripping for three foot sizes with minimal damage to the wood. These jaws can also expand into a recess when making bowls, plates and small platters.
Nova Powergrip Jaws
For use on the Titan2 and Supernova2 Chucks only.
These jaws are the most powerful jaw available for turning large bowls and hollow forms. They have internal serrations along with a dovetail grip.
Code
Name
Price
113118
Nova Pin Jaws
$71.99
113116
Nova 35mm Spigot Jaws
$73.99
113117
Nova 45mm Spigot Jaws
$83.99
113120
Nova Long Nose Jaws
$79.99
113119
Nova Step Jaws (75mm)
$77.99
113122
Nova Powergrip Jaws
$92.99