Patriot 4-1/4" (108mm) Deep Grip Jaws
| | |
| --- | --- |
| Code | 118719 |
| Quantity in Cart | None |
| Price | $79.95 |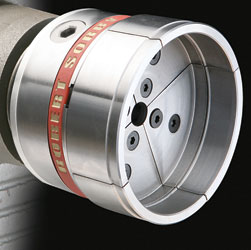 Designed with 1-1/8" deep sides to give extra grip on larger projects and awkward pieces of wood. The Deep Grip Jaws also have a large internal and external dovetail to securely hold bowls in excess of 16" in diameter.
Grips: 3-13/16" to 4-13/16"
Expands: 4-1/4" to 5-1/4"
The jaws are shown mounted on the Patriot Chuck, which must be purchased separately.