Patriot Bowl Jaws
| | |
| --- | --- |
| Code | 118720 |
| Quantity in Cart | None |
| Price | $89.95 |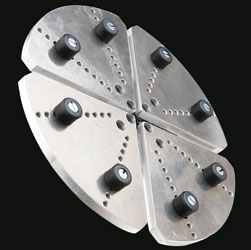 These Bowl Reversing jaws are perfect for finishing the outside and bottom of a bowl after hollowing.
Lightweight but extremely strong aluminum plates with 80 positions & 8 rubber grips to gently hold the outside of a bowl without causing any damage to the turned piece.
Grips: Min. Bowl Dia. 2" to Max. Bowl Dia. 9"
The jaws are shown mounted on the Patriot Chuck, which must be purchased separately.